• ~400 words • 2 minute read
My good friend is getting married. Knowing my penchant for artsy-craftsy projects he asked if I might make custom cufflinks for his groomsmen. I somewhat foolishly dropped what I was doing — you know, real work — and jumped on the task (The realization that this sort of problem-solving was so much more appealing to me at that moment got me thinking about some sort abrupt career-shift on my horizon, though I have no idea what that would be exactly.). After a lot of measuring, parts sourcing and out-right guessing, the major components of the wedding cufflinks arrived in the mail today.
And this evening I spent a solid hour prepping the pieces, glueing things together and leaving the wooden bits to soak in an oil & beeswax mixture overnight so that the wood might look extra rich when the whole thing's finished.
The request for cufflinks was not entirely without precedent — I've made a few before with the left-over coins I had from my travels, last year. These were a little more fun and involved, featuring a monogrammed bamboo face with a walnut ring.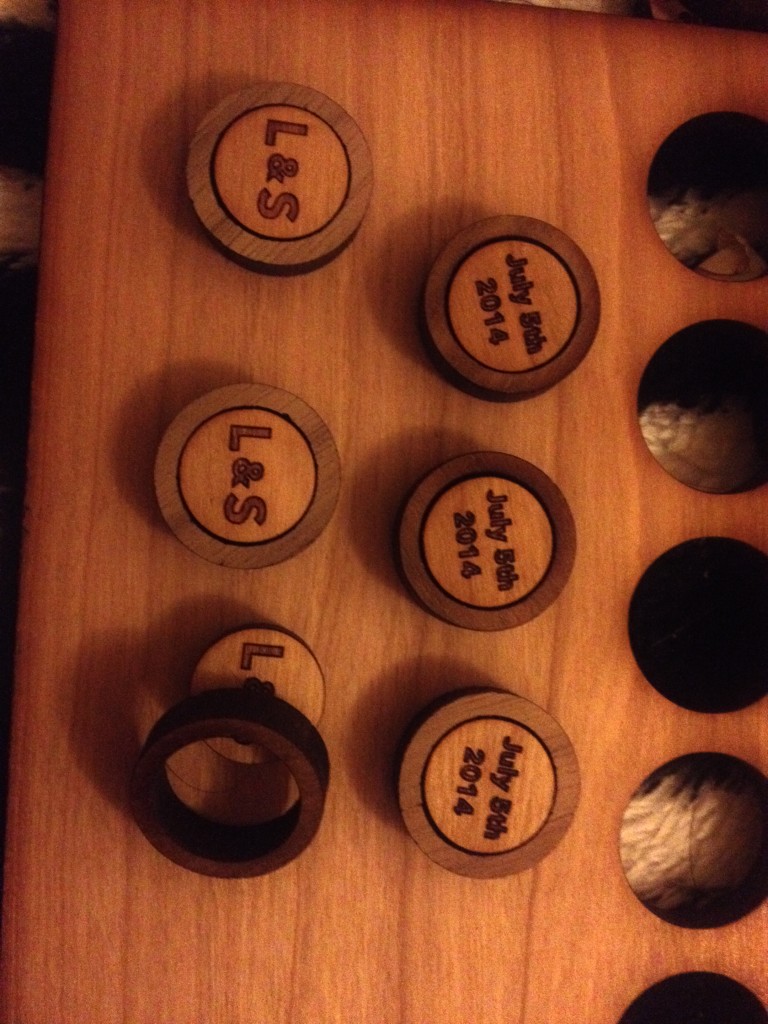 The width of the walnut ring was as big as I wanted to make it and just barely worked out so that I could glue both segments to the largest cufflink pads I could find:
There was something soothing and meditative about sitting around and assembling these things. I'd liken it to the same primal satisfaction one gets staring into a campfire, or stepping away from the fire to go gaze at a starry night sky. A simple, repetitive thing that lets my brain wander joyfully and revel in the beauty of something so basic as a collection of little, wooden circles.
I'll post some photos when they're finished. It's making me happy to make them — no doubt because I'm making them for some people I care about quite deeply — but I also think, hope and suspect they'll like them.
In the meantime... If you're looking for some custom cufflinks like these for your wedding (or some such thing) please get in touch!